The Toyota HiLux is the most popular vehicle on Australian roads due to its uncompromising reliability and strength. The 'indestructible' Toyota HiLux is found in rural, suburban and city locations far and wide—with sales numbers that have consistently succeeded all other work utes year after year. MRT has a range of innovative and high-quality accessories designed to increase the flexibility, storage capacity and functionality for customers who own the ever so popular Toyota HiLux. Despite being our nation's favourite, the Toyota HiLux is one of the most modified vehicles on the market as purchasers generally buy this ute and modify it to suit a very specific purpose (often related to work in the construction industry). MRT has an extensive range of off the shelf and customisable accessories that allow you to transform your Toyota HiLux into the ultimate weekend adventurer or the most convenient and storage-friendly workhorse on the market. Improve the everyday performance and capacity of your Toyota HiLux with the market leading MRT Toyota HiLux ute accessory range.
Toyota HiLux canopy.
Overview: ​Adding an MRT ute canopy to your Toyota HiLux, provides you the freedom to completely maximise your space for work and leisure purposes. MRT ute canopies are constructed with the highest quality, extra thick, yet lightweight aluminium that creates an expansive weatherproof storage area—ideal for safekeeping valuable work tools and camping gear. The beauty of adding an MRT ute canopy to your Toyota HiLux means you can increase your everyday convenience by creating that additional space when you need it most. This is vital if you work in the construction industry and is ideal with general life related tasks such as moving house, shopping, furniture pick-ups, garbage disposal, and even allows you to transport pets in a safer and more comfortable manner.
Cost:​ All MRT ute canopies are made from 2.5mm aluminium checker plate—the part tray canopy starting price is from $1649, the dual cab canopy starting price is from $2399, the extra cab canopy starting price is from $2749 and the single cab canopy starting price is from $2999.
Customise your canopy entry points.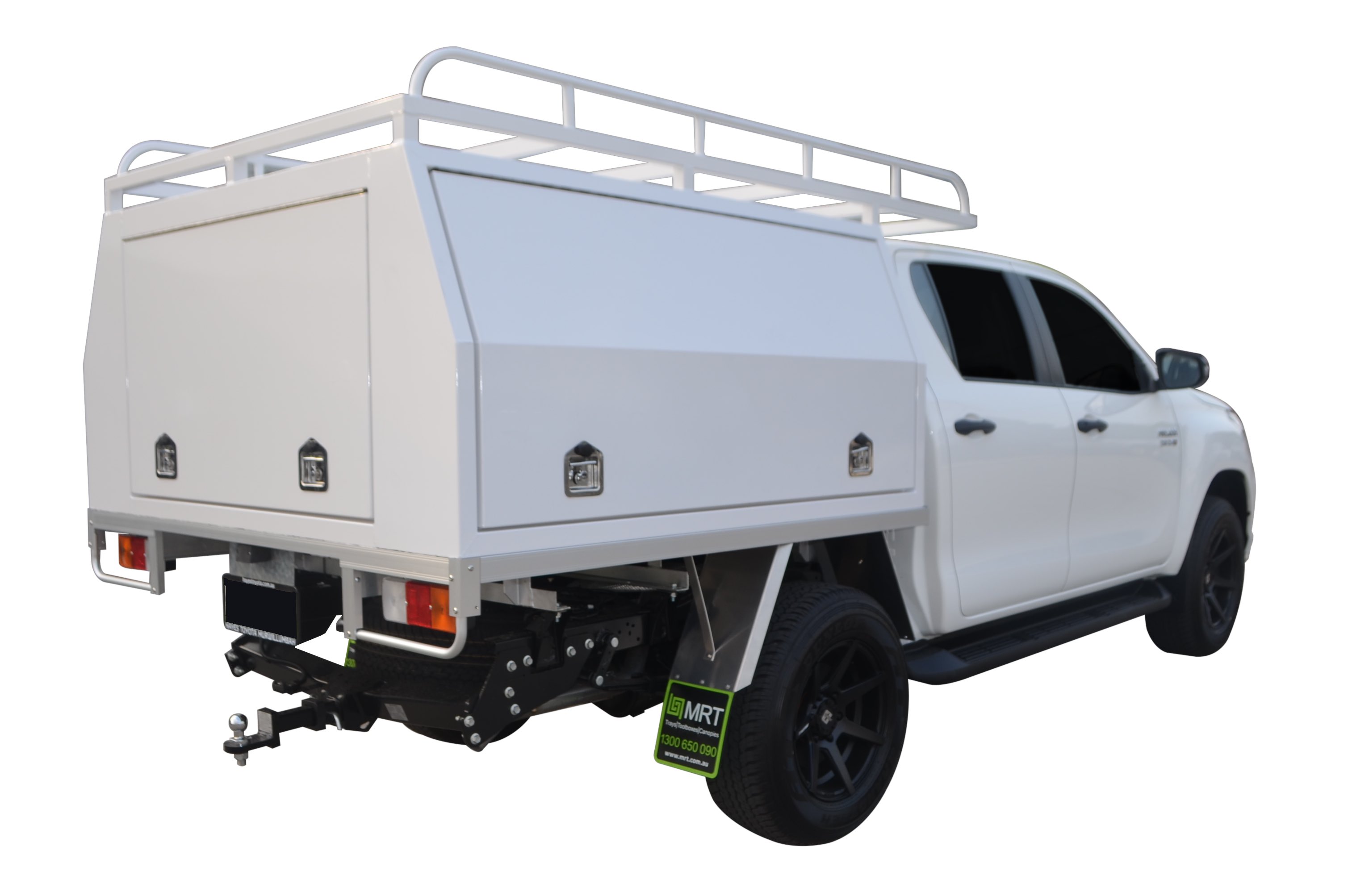 Overview: ​All MRT ute canopies are available in the part tray, dual cab, extra cab and single cab designs which are complete with powerful stainless steel T-locks, and are fully seam welded. They are complete with hard wearing in-built floors with the option to customise nearly all elements of your ute canopy to suit your specific needs. Access points are important for increasing the functionality of your MRT ute canopy which is why MRT gives you the option to add additional entry points to your chosen Toyota HiLux ute canopy.
Cost:​ For the MRT dual cab, extra cab and single cab choose between 2 or 3 doors at no additional cost. Choose your desired driver side and passenger side window configurations starting from just $299.
Add canopy ladder racks.
Overview: ​Regardless of how much additional room your MRT canopy provides you, some items are just far more suited to being transported on the roof of your Toyota HiLux. Carry your work ladders and extra-long equipment with ease and peace of mind knowing your sturdy and robust MRT ladder racks have got you covered—especially during long haul travel on rural roads.
Cost: ​Add MRT ladder racks to your chosen canopy starting from just $99 for the standard ladder racks. Customise your canopy with the internal supports for the part tray canopy starting from just $250—ideal for those who wish to carry heavier loads or utilise their Toyota HiLux canopy for rooftop camping.
UTE tray.
Overview: ​Many Toyota HiLux customers purchase their vehicle with a specific purpose in mind which may require a speciality steel ute tray for tradespeople that need the structural integrity of something like a small crane. MRT has a range of lightweight, aluminium, extra strong ute trays available in the tray only design and the complete tray (with heavy duty dual wall sides). Both tray styles are built with robust materials that can withstand the harsh working conditions endured by Toyota HiLux mining customers, tradespeople or avid adventurers.
Cost:​ All MRT ute trays are made from the highest quality materials and are commercial grade ute trays that are robust and affordable. The tray only—dual cab starting price is from $1099, the extra cab starting price is from $1199 and the single cab starting price is from $1275. Your MRT, Toyota HiLux ute tray can also be completely customised with undertray drawers starting from $1,099 (including a dual lid and installation), numerous undertray toolbox options starting from just $195 (fitted to vehicle price), rope rail sets from $175 and much more.
Undertray toolboxes and drawers.
Overview: ​A simplified way of keeping some of your work items organised and easily accessible when onsite is by utilising MRT undertray ute drawers and toolboxes for your Toyota HiLux. These products offer an extremely cost-effective way to create additional space in your ute to safeguard important equipment and tools. Undertray storage allows you to store additional equipment in areas of your Toyota HiLux that are underutilised. All MRT trays and toolboxes have a streamline design that is lockable and made from the most robust materials.
Cost:​ MRT undertray drawers start from $875 (excluding installation), MRT undertray toolboxes start from $109 (there may be additional costs involved depending on desired specifications and installation requests).
Where to buy: ​All discussed products can be purchased from​ ​MRT stores—located in Sydney, Brisbane/Gold Coast and Perth. If you are not in close proximity to these locations, simply enquire online, or call MRT today for nationwide customer service and delivery.