Chassis mount canopy
Chassis Mount Canopy

Lighter Weight
Learn more


More Useable Space
Learn more


Advanced locking system
Learn more


LED Tail Lights
tech specs
Gas Struts
2.5mm 5052 Marine Grade Aluminium

Internal 60x30x2.5mm RHS bracing allowing up to 300kg of static weight and 150kg of dynamic weight on the canopy roof

Full-Length Piano-type Stainless Steel Hinges
Extra-Thick Rubber Dust Seal
Water Deflector Seal
Ute with MRT x-series canopy cruising through various terrains
Order Summary
Dual Cab Canopy Base Price
$10,199
Order Summary
Extra Cab Canopy Base Price
$10,899
Order Summary
Single Cab Canopy Base Price
$11,499
Shop MRT's Signature Packages

Chassis Mount Canopy Models Now Available!
Lighter weight, with more room for features.
Previously exclusive to fleet environments, the X-Series chassis mount canopy now brings innovative features to the broader market. The design philosophy behind the X-Series canopy focuses on utility and efficiency. Conventionally, a ute canopy is installed on an existing ute tray, which serves as the primary support. However, the MRT X-Series canopy, a chassis mount solution, cleverly utilizes an engineered structure. It incorporates an integrated canopy floor instead of the traditional tray floor, reducing weight and providing more practical and efficient storage space. This approach allows room for additional features unique to the X-Series range, without compromising the vehicle's payload capacity.
Ute with MRT x-series canopy cruising through various terrains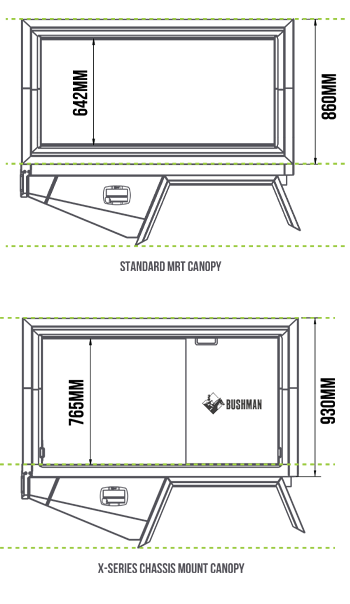 Better space utilisation
The canopy has been expertly designed ensuring a seamless aesthetic fit while allowing far superior use of space. Having the accessible and usable space start right from the floor, No longer is there a need to raise up drawer units or doors to be able to open above the door opening. Notably, users will appreciate the significant 765mm Door clearance inside the canopy, making ease of installation and access for items such as the Bushman 130L upright fridge.
Advanced locking system
The X-Series canopy enhances security and convenience with its patented, advanced three-stage locking system. It features both slam-shut locking and finger-pull opening mechanisms, ensuring easy access and enhanced safety. The unique design, incorporating a single handle, contributes to a tight dust seal. Unlike traditional whale tail locks, this fully enclosed system prevents loose items from becoming entangled or obstructing the locking mechanism, effectively eliminating cutouts on the floor that could be obstructive and potential jamming issues caused by loose items in the canopy. 
Ute Canopy Flush floor animation
Flush flooring
The X-Series chassis mount canopy features a flush flooring design, which eliminates the necessity for sub-floors. This design extends to both side doors, creating a uniform and level surface providing full access from the base of the floor. The flush floor design ensures there is no wasted space in the X-Series chassis mount canopy. 
Keyless entry system*
The MRT keyless entry system is a revolutionary feature that offers the ultimate convenience and security for your vehicle. With this patent-pending system, you can effortlessly lock and unlock all of your canopy doors using a single remote, saving you time and hassle. This innovative technology provides enhanced peace of mind by offering superior protection for your equipment and is the perfect solution for anyone who values convenience and efficiency.
Ute canopy keyless entry fob animation
mrt ute canopy internal led lighting animation
Internal LED lighting*
Each door of the canopy is equipped with its own LED strip light and switch. The light is strategically positioned so that when the canopy door is opened, it illuminates both underneath the door and inside the canopy.
This unique design incorporates a 3-way lighting system, providing two colour options: a standard cool white light and an orange light. The orange light is specifically designed to deter bugs during nighttime use.
Flared mudguards
Flared mudguards extend past the tray on each side, providing a wider coverage than standard mudguards and ensuring that your wheels and tyres are fully covered according to Australian legal requirements. Available in 45, 65 and 85mm protrusion per side, Our flared guards are made from 3mm heavy duty aluminium and are the perfect combination of functionality and style.
Anderson out*
Designed for user convenience and simplified connection, our premium convenience package control system incorporates an internal 12V Anderson plug output, which comes with a 40A rating. This feature presents a well-organised and efficient solution for linking 12V accessories directly to your vehicle's battery. For those contemplating a dual battery system, you can seamlessly utilise this output as the connection point to interconnect the canopy power system with your primary vehicle battery.
X-Series Tailored Undertray Toolboxes*
Our under-tray toolboxes, exclusive to the X-Series range, are custom-designed to match each vehicle's make and model, ensuring a sleek and seamless appearance. The X-series model of these tailored boxes also incorporates the same advanced locking system as the X-series canopy and seamlessly integrates into the keyless entry providing a cohesive and streamlined user experience. 
MRT X-Series under tray toolboxes animation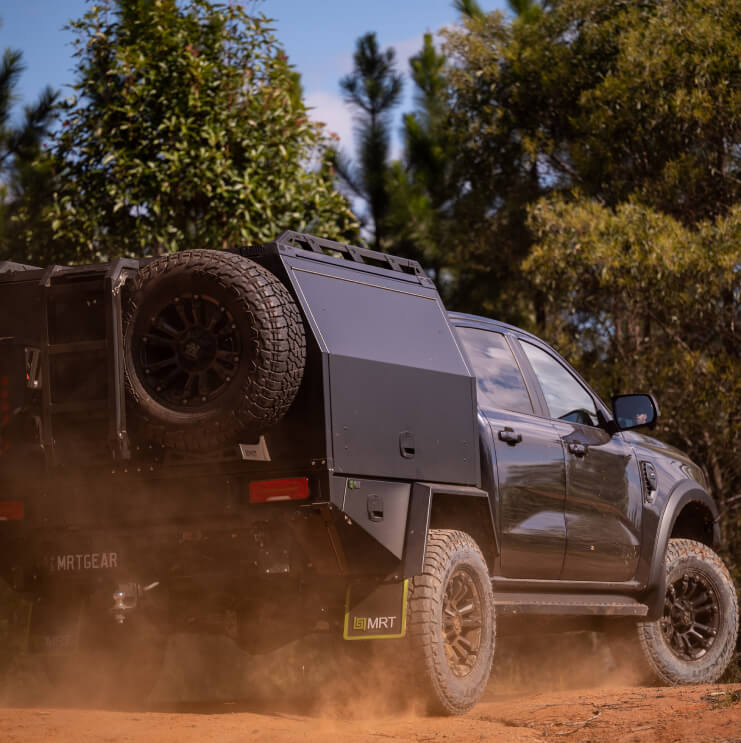 A new level in adventure
Whether it's exploring the untamed wilderness or conquering daring expeditions, X-Series opens doors to unforgettable experiences without compromising on quality or performance with a groundbreaking approach to affordability. 
* This feature is not included in the base product
Ute with MRT x-series canopy cruising through various terrains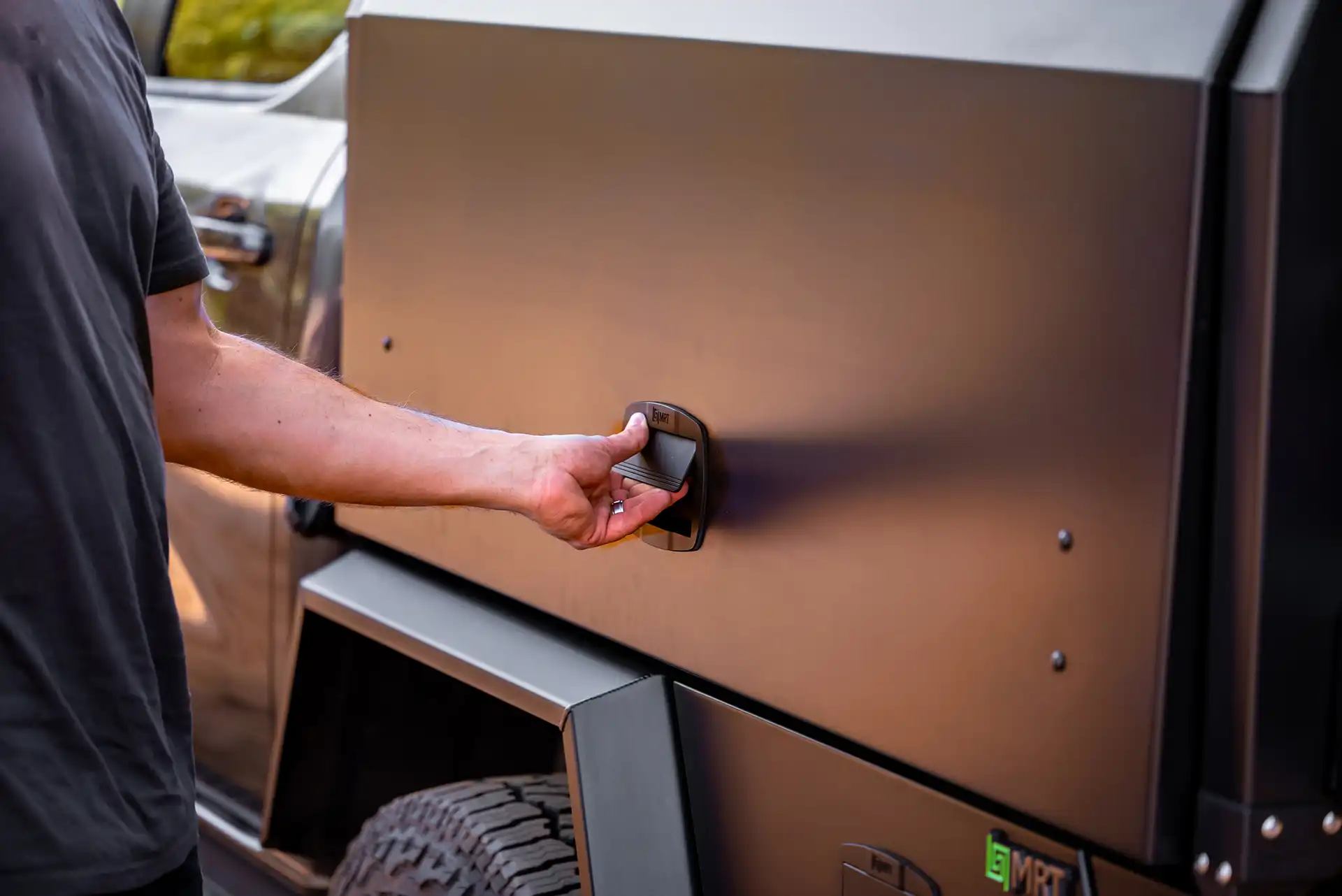 +8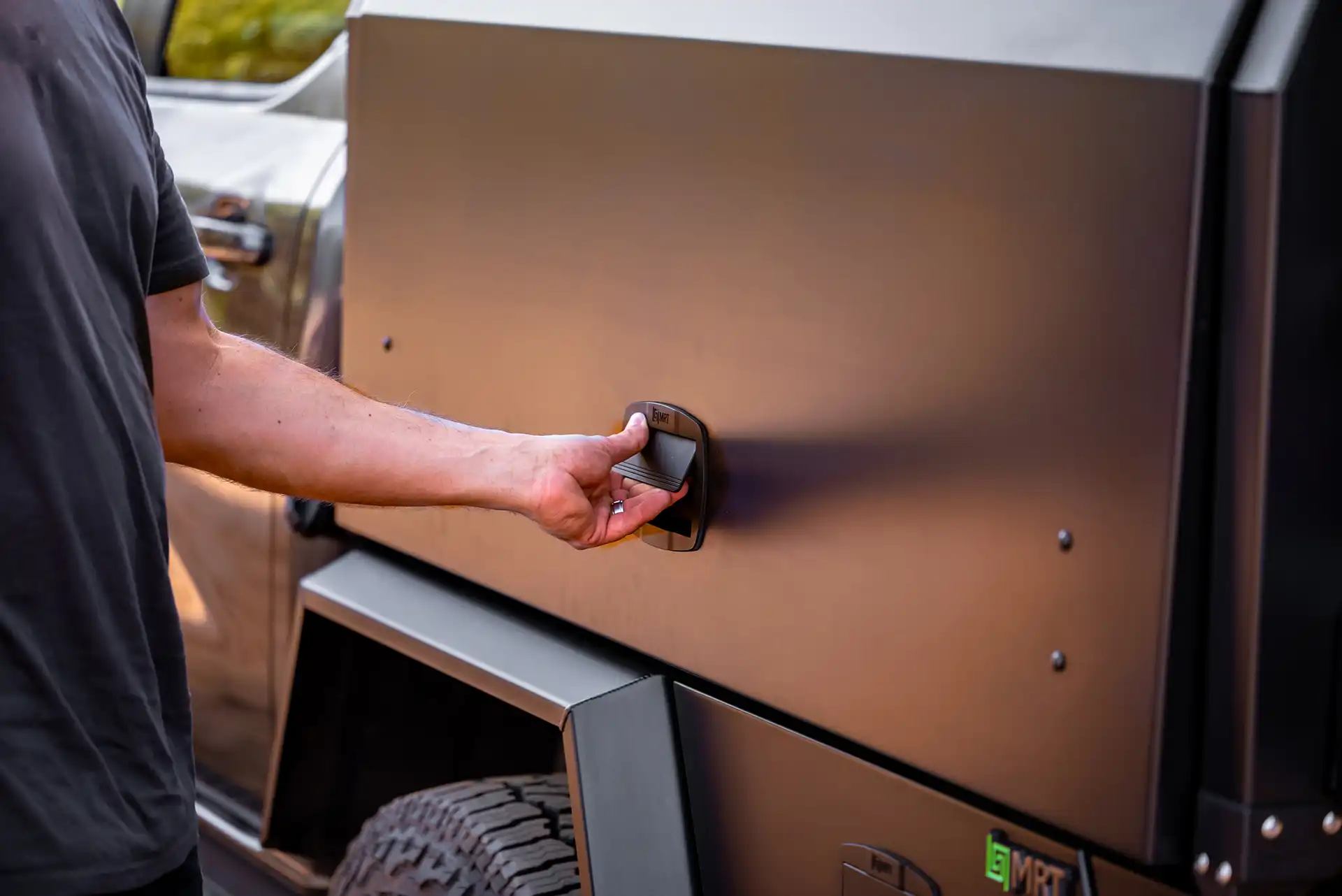 +8
×